COVID-19 Guidance and Recent Update Letters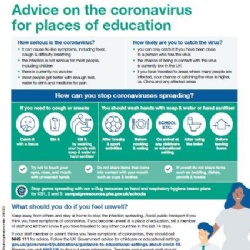 This information and much more is now all on the Coronavirus page: For all updates, Home Study Guidance and other information please click to see the Covid19 page.
Guidance for schools and other educational settings in providing advice about the novel coronavirus, COVID-19 and update letters.
Please see the file at end (click on it) for guidance from the Government.
Letters that have been sent to parents are below, dated and in reverse sequence and a guide for on-line learning at home.