Teacher Training Opportunities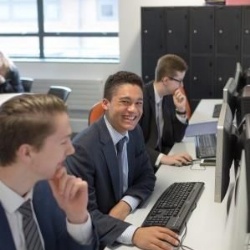 Applications for 2020 / 21 recruitment in both primary and secondary subjects can be made through UCAS.
Bursary-led / fee funded places will be available at Dr Challoner's Grammar School in the following subjects: Art; Biology; Chemistry; Drama; English; Geography; History; Mathematics; Music; PE and Physics. Places will also be offered in a wide range of subjects and phases across our alliance schools: Mathematics, English, History, Geography, Physics, Chemistry, Biology, Computer Science, Physical Education, Art, Drama, Health and Social Care (salaried), Music, Primary General, Primary with Mathematics, and Primary with PE.
The Astra Alliance has been awarded status as a School-Centred Initial Teacher Training (SCITT) provider, working with Goldsmiths University for the PGCE qualification to provide high quality training placements. During the training year, all trainees will have the opportunity to spend time in at least one other of our partnership schools to ensure a contrasting and comprehensive experience. The Alliance has considerable experience of training teachers and recognises and values the enthusiastic contribution that they make to our school communities. Staff at the training schools will share their knowledge and good practice to ensure that trainees are well supported to develop into good and outstanding teachers.
The programme is structured to allow trainees to develop the skills required to teach the subject that they are training in and to develop specific expertise for making a distinctive contribution to practice in their setting. See Astra Learning Alliance under 'Teacher Training' for more details. Expressions of interest can be registered with gby@challoners.org. More information about SCITT/School Direct teaching routes can be found at:
Get Into Teaching
Generous bursaries are available for trainees; for more information see Bursaries and funding. We also offer school experience visits for both primary and secondary - please contact Gill Byrne at gby@challoners.org