A Level Results 2020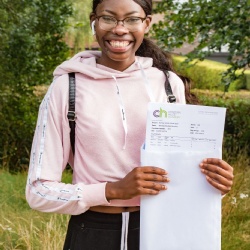 The examination results are of course different this year. The impact of Covid-19 has resulted in final examinations not being sat, estimated grades being sent to examination boards and then a national methodology has been applied to the results.
This very different year for the Y13 students does not deflect from their mature and dedicated approach to their studies, evidenced by their work in Y12 and Y13. We are proud of each and every student. The results overall this year demonstrate some outstanding academic achievement. Some students achieved all A grades or a mixture of A and B grades together with some superb BTEC results.
We are equally proud of those students where A Level study was going to be a significant challenge and knowing that hard work and tenacity was going to be required to achieve A Level grades. The students opted to, and were supported by staff, to work hard and to do their very best in achieving their grades. The pass rate this year has risen to 98% and those students achieving the highest grades (A*-C) are 80% of the year group.
All those students seeking higher or further education will undoubtedly achieve their career aim. The school is proud in having a team of supportive and dedicated staff in the Sixth Form, led by the Director of Sixth Form, Miss Harman, to assist students as they make their final choices and review their grades.
Well done to every student for your hard work leading up to your awarded grades. The strong foundations that you laid following your GCSE/BTEC examinations have been rewarded by your achievements this summer.
K Patrick
Principal
13 August 2020