Artificial Grass Pitch (AGP)
From this:

To this: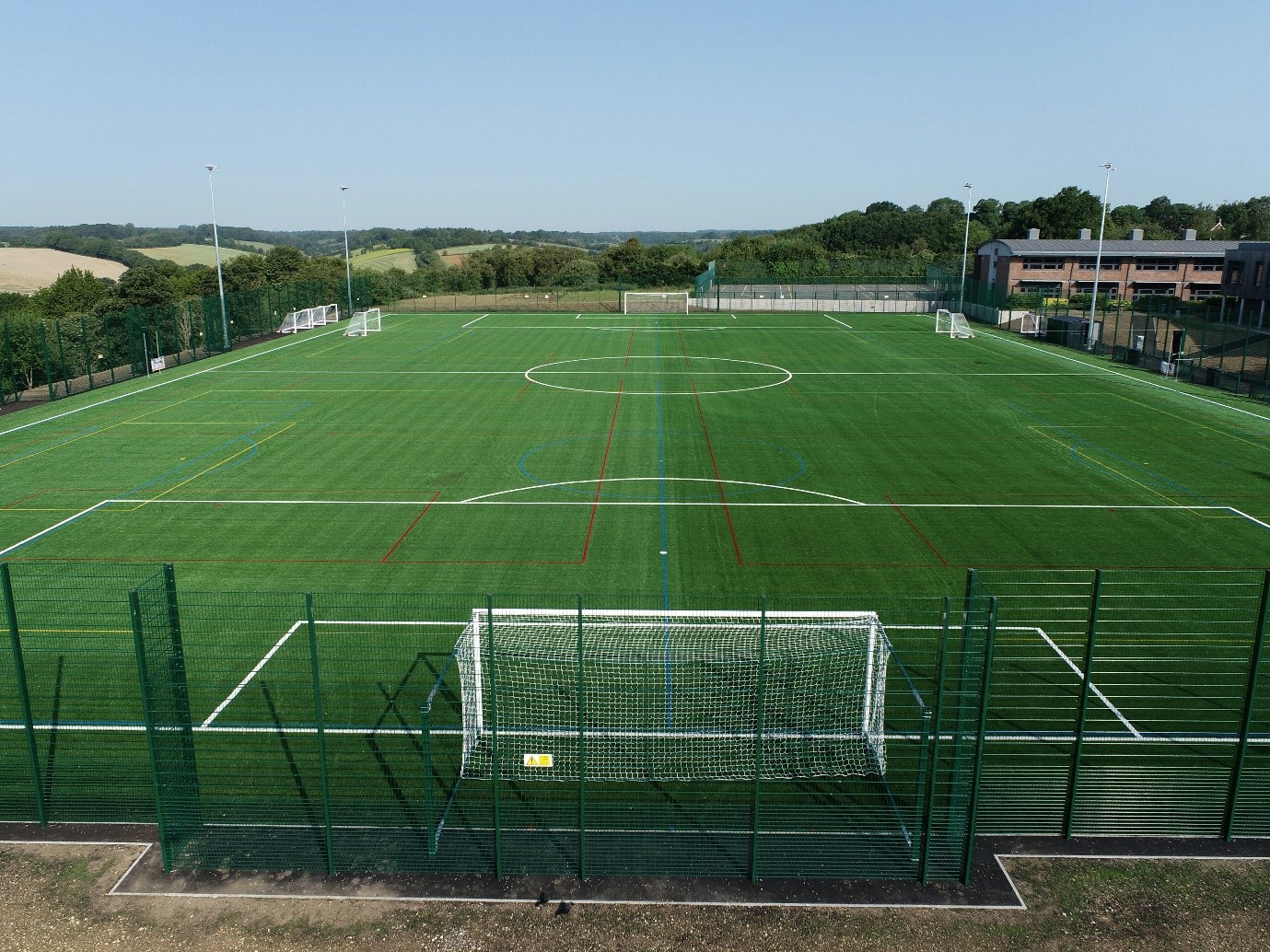 Investing in Local Grass Roots Sport - Chiltern Hills Artificial Grass Pitch
The artificial grass pitch (AGP) was completed in June 2020. The pitch has been built through a collaboration with the Academy Trust, the FA, the Football Foundation, the RFU and with the support of the local community.
It is available for use by the school during term-time weekdays and can be booked weekday evenings, weekends and school holidays. The new facility will also serve two partner football clubs: Chesham Athletic and Chesham United. The on-site rugby club will also use the facility for training.
The new pitch is a full-size Fifa compliant football pitch enabling full 11-a-side games to be played as well as 9 a-side and 5-a-side. The floodlit pitch has relevant line markings with the associated goals for these matches, it is open up to 10pm weekdays and 8pm at weekends.
The artificial grass pitch's durable, all-weather surface, with porous layers which let water drain through easily, can be played on for 80 hours a week, as opposed to the five hours a week natural grass pitches can withstand.
For bookings please contact: kbuxton@chacademy.co.uk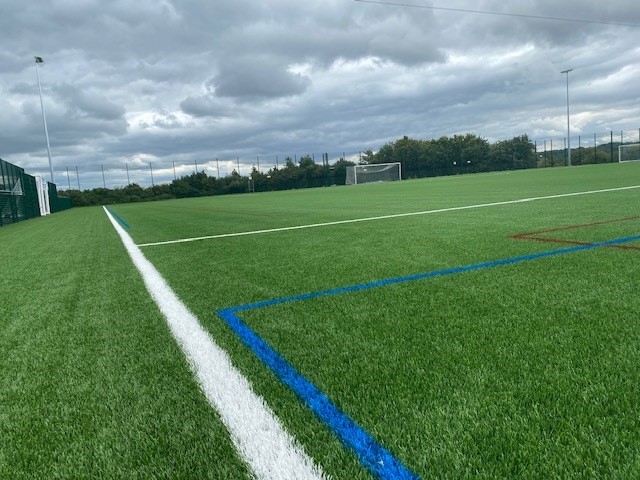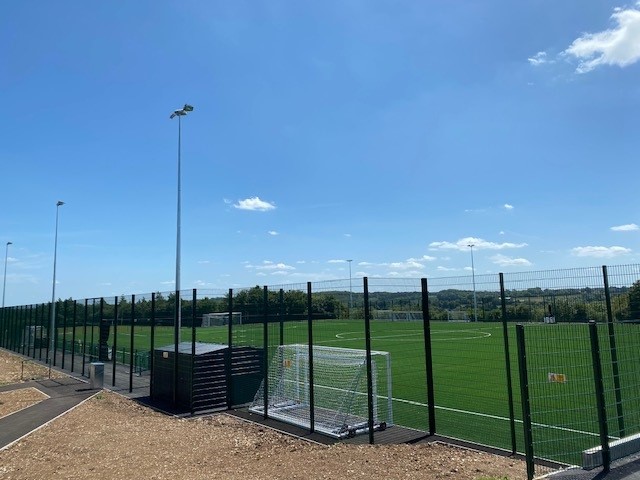 Our local need
A public access all-weather sports pitch is a normal part of a modern community. Go anywhere in Europe, even the smallest, poorest town has a floodlit synthetic turf pitch where everyone can play outdoors all year round. Every week in Chiltern District, more than 200 teams play football and rugby, but our District is the only one in this region with no all-weather pitch to train or play on.
How this came about
Project volunteer Dr Mark Pegg says it's been a long haul. Over the last 3 years there has been a great deal of detailed research and consultation with local clubs and interested parties to raise the profile of the Chiltern Hills Artificial Grass Pitch project and mobilise their support. He says, 'We've shown the project meets a very real need; it will be fully used by the local community and we can demonstrate it will be financially viable'. He adds, 'It is really pleasing to see the enthusiasm everyone has for this project and the commitment to get it funded and built'.
This still much more to do, with the launch of a public appeal in 2019 to raise the money needed to close the final funding gap (see leaflet below). Dr Pegg says we are actively working in partnership with local clubs like Chesham Utd Ladies and Youth Teams, Chiltern Athletic and Chesham Stags to make it happen and then care for it over the long term.
September 2019: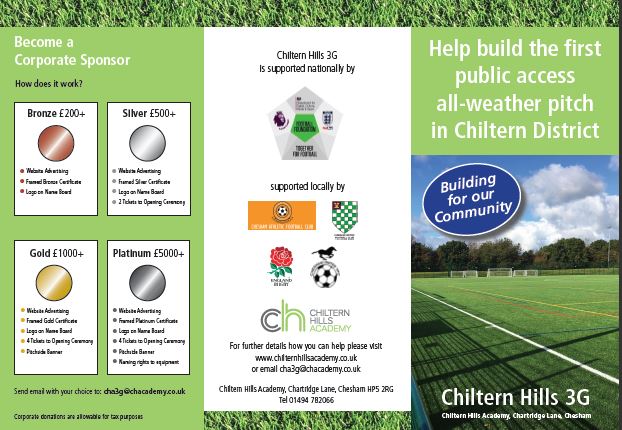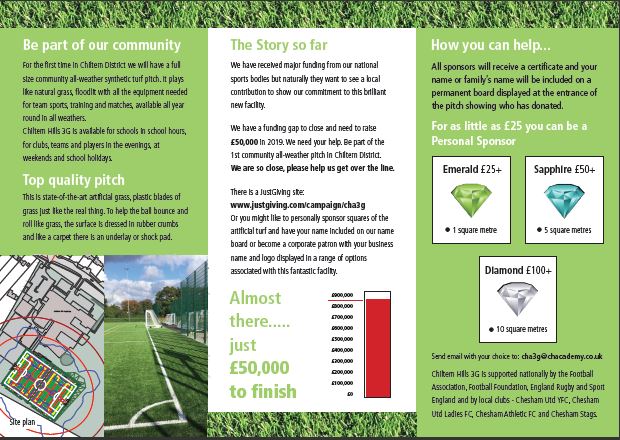 (Click to download PDF of leaflet or use link below)
The future
The FA and England Rugby want to use the Chiltern Hills Artificial Grass Pitch pitch to boost their game. The FA is,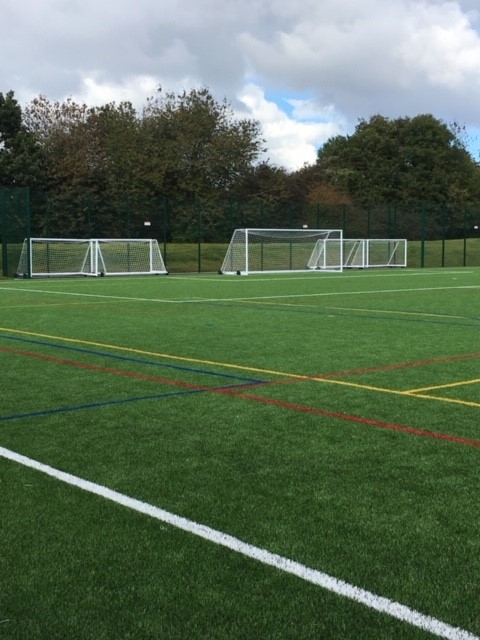 for example, keen to see more women players, more opportunities for disabled players and to grow walking football for older players. We now have the serious prospect that, for the first time in the Chilterns, girls, boys, and players of all ages will be running out and kicking balls on a fabulous state of the art facility they can use whatever the weather.
How can you help to support this valuable project for the school and whole community?
We are launching this to our student Sports Marathon event in the coming weeks; please do help your son or daughter to participate in this.
By a donation through Just Giving. In this way if you are a tax payer we can claim back tax on your donation: https://www.justgiving.com/chilternhillsacademy
Alternatively you can donate through the ParentPay system where there is a donation option.
By spreading the word across the community and encouraging others to donate.
We do our best not to ask our parents for termly donations or significant amounts of money as we do feel that educational opportunities should be free. However, this facility is an extra for us all and will be of benefit to students at CHA now and those in the future, as well as all the local sporting organisations that will be able to use the pitch. Please help us to achieve this goal.
February 2020 Update
This month has seen the start of a four month construction period to complete this amazing facility. This project has been generously supported by the Premier League and Football Foundation, Rugby England and by a number of organisations and individuals raising close to £900k.
When this is completed there will be no more cancelled training sessions or matches caused by waterlogged pitches. The facility will be used by the school during the day and by the community at weekends and in the evenings.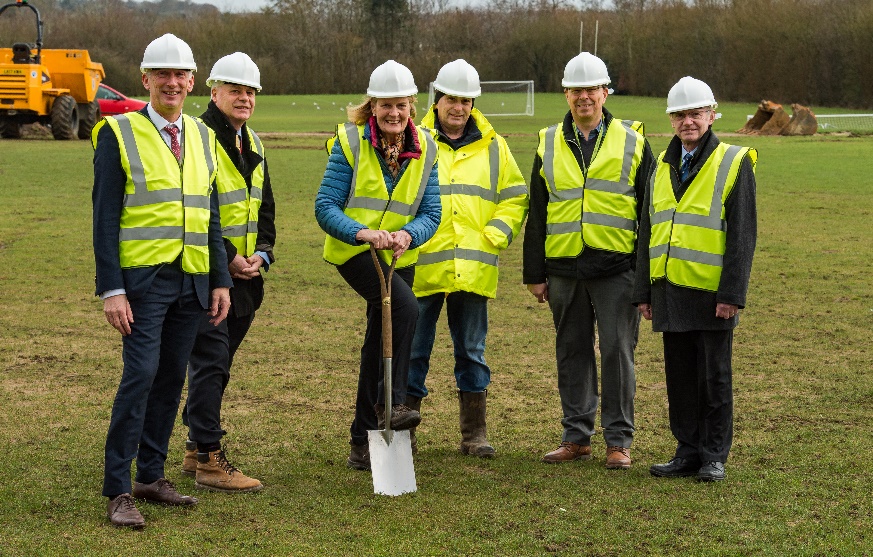 In the photograph is Cllr Patricia Birchley is digging the first earth watched by Bill Richards from Chesham Town Council, the Chair and Vice Chair of Governors, Mr Andrew Brown and Mr Graham Hull, Mr Barry Jacobs, Contracts Manager at Mcardle Sport-Tec with Mr Kevin Patrick, Principal at Chiltern Hills Academy.
This project would not have been possible without the assistance of Dr Mark Pegg who has worked tirelessly to ensure that planning and fundraising have aligned to achieve this outcome.
Mr Patrick said: 'This project will provide a fantastic community facility for years to come. There is not a similar pitch in the town and surrounding area. Many players, young and old, will enjoy using this fully FA compliant pitch, so we look forward to seeing it completed and in use.'
There remains a small funding gap and the school continues to fund-raise. You can help, using the Just Giving campaign at: https://www.justgiving.com/campaign/cha3g or email ch3g@chacademy.co.uk if you would like to become a sponsor or to donate in another way, for this soon to be completed facility.