Artificial Grass Pitch Official Open Ceremony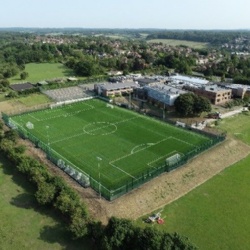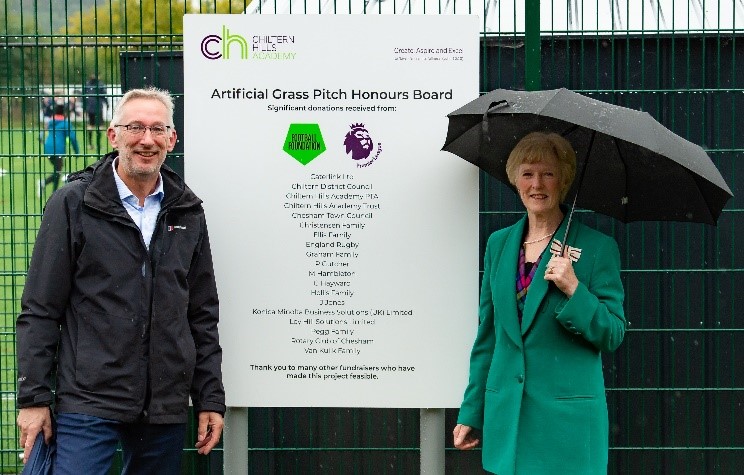 In an informal ceremony at Chiltern Hills Academy on 2 October, Her Majesty's Lord-Lieutenant of Buckinghamshire, The Countess Howe, declared the new Chiltern Hills Artificial Grass Pitch officially open.
This amazing new resource means that the Chilterns now has a pitch that will never be waterlogged and never need re-seeding or cutting and where matches and training can take place whatever the weather. A full-size public access pitch, it's a major investment in Chesham - a wonderful facility for the Academy and the community. The Academy's students love using the pitch during weekdays for PE lessons and recreation time and a wide range of players from the surrounding community enjoy using the pitch at weekends and on weekday evenings.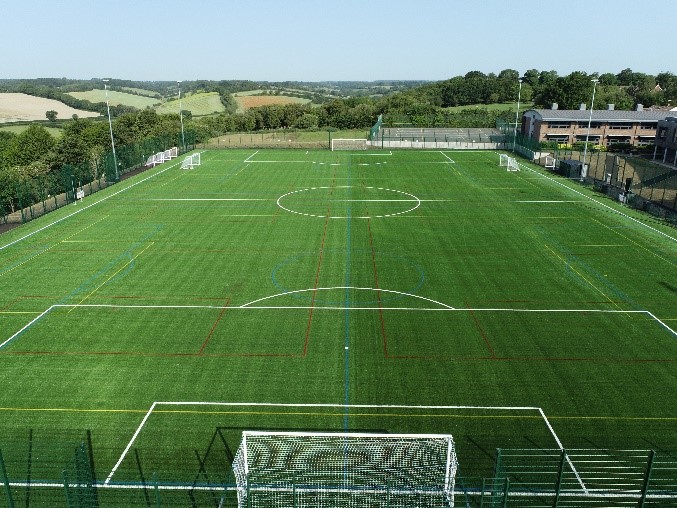 Although it can take a full-size game, it is more often in multiple use and already some 600 players at the weekends and evenings are improving their skills and taking exercise; a major contribution to their health and wellbeing. It is easy to see the benefits for Chesham's diverse and inclusive community – for any gender and all ages.
Principal, Kevin Patrick, who masterminded the new installation, welcomed Lady Howe and other guests included the Mayor of Chesham, Councillor Emily Culverhouse, local councillors, governors, parents, club managers, PTA members and the friends and members of the local community. Lady Howe praised the major community effort that had gone into developing the new pitch and unveiled a supporters' signboard at the entrance to the pitch.
The Principal recalled how the original concept was conceived back in 2014 by Dr Mark Pegg, a Chesham United YFC team coach, and Morris Hogg, the then Chairman of the Chesham Stags Rugby Club and they brought their vision to him. Embraced by the Academy and with Governors in full support, it then took several years of hard work and fundraising to make it happen.
Mr Patrick praised the Football Facilities Fund supported by the FA and Premier League and England Rugby who guided the Academy through the design, legal, technical and planning matters essential to get the pitch approved and built. He thanked them for their generous financial contribution ensuring it was built to a high standard, a lasting legacy for future generations. At one heart-stopping moment it seemed the pitch might not fit in the space allowed but all was soon resolved and Tiger Turf and McArdle Sport Tec constructed the pitch in just 20 weeks with great professionalism and skill under the constraints of lockdown.
Mr Patrick thanked everyone who contributed to make the pitch a reality. It would not have been possible without the encouragement, help and financial support of Governors, the PTA, local Councillors, Chesham Town Council and Buckinghamshire Council and especially local football and rugby clubs. Many local people also contributed their own personal money. The dream for this community sporting facility has now become a reality.