Exam Results Collection Days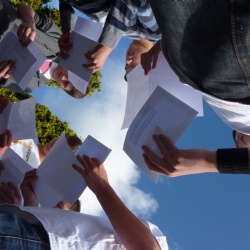 GCE/AS Level/BTEC Level 3 results will be available from school on Tuesday 10 August 2021
GCSE/BTEC Level 1&2/CNAT results will be available from school on Thursday 12 August 2021
We have kept our results days the same as last year as, at the time of writing, Covid-19 restrictions are still in place. We ask students to bring with them masks and to continue to social distance. There will be timed slots of half an hour each for students to collect results and this will be by alphabetical order, according to surname. Please see the tables below.
Y12/13 students have one slot of half an hour on each results day to pick up their AS Level, Certificate in Financial Studies results on Tuesday 10 August and GCSE retakes and BTEC Level 2 results on Thursday 12 August.
Year 13 & 12 – Results Collection Tuesday 10 August 2021
The timings will be as follows:-
| Time Slot | Surname Beginning |
| --- | --- |
| 09.30 to 10.00 | Group 1: A to L |
| 10.00 to 10.30 | Group 2: M to Z |
| 10.30 to 11.00 | Group 3: Y12 AS Level and CFS students |
Year 11&12 – Results Collection – Thursday 12 August 2021
The timings will be as follows:-
Time Slot

Surname Beginning

09.30 to 10.00

Group 1 - A to D

10.00 to 10.30

Group 2 - E to J

10.30 to 11.00

Group 3 - K to P

11.00 to 11.30

Group 4 - Q to Z
- Y12 GCSE retake and BTEC Level 2
Centre staff will be available for students if they would like to discuss their results.
Results must be collected by the student who has taken the exams. If this is not possible, written permission should be given by the student detailing who will be collecting the results on their behalf. The representative collecting the results should bring the letter with them and some form of photographic proof of identity. Unfortunately, if no photographic proof of identity or a letter from the student is provided we cannot issue results.
Alternatively, if a student is unable to collect their results in person, they may be posted out to their home address. Please provide an A4 stamped address envelope to Mrs Dell, the Examinations Officer, by Monday 19 July 2021.
More information about examinations at Chiltern Hills Academy is available on the Examination page.
If you require any further information regarding results collection, please contact Mrs Dell via email tdell@chacademy.co.uk.