GCSE Results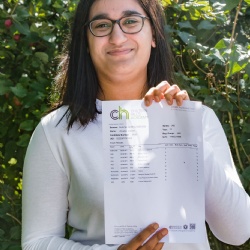 Congratulations to the Y11 students who received their GCSE results today. It has been a difficult end to their KS4 studies but this does not detract from the hard work and dedication demonstrated by the students in their academic studies.
This year's GCSE results had to be awarded differently from usual after exams were unable to go ahead due to Covid-19. Schools and colleges were asked to use their professional experience to make a fair and objective judgement of the grades they believed a student would have achieved had they sat their exams this year and to submit these centre-assessed grades (CAGs) to the relevant exam board.
Teachers and leaders in each subject worked together to discuss and agree the centre-assessed grade for each student. They took into account a wide range of available evidence including class work, mock exams and other records of student performance.
The intention was that the exam boards would then moderate the CAGs, to check that schools and colleges had approached this task consistently, before providing students with their final calculated grades. Unfortunately, as you will no doubt be aware, the method they used to do this proved problematic and was likely to lead to many grades being unfairly downgraded.
The Government therefore made the decision that GCSE and A level students would be awarded whichever was higher for each subject – their CAG or their calculated grade. This is what the grades are based on. This led today to many 'happy tears' as some students achieved the highest possible grades (levels 8 and 9) in all of their subjects.
The staff at Chiltern Hills Academy are looking forward to seeing many of these students, together with students from other schools, as they enrol for their Sixth Form courses. The Sixth Form at Chiltern Hills has a range of course opportunities for both traditional A Levels and vocational courses. There are more than twenty different courses offered in the Sixth Form. With a small Sixth Form students are nurtured and encouraged in small teaching groups to achieve their very best, whatever their interests and aspirations might be.
The enrolment for Y11 students who wish to join the Sixth Form is on Friday, 21 August (tomorrow). Applicants should contact the Director of Sixth Form, Miss L Harman by email: lharman@chacademy.co.uk to arrange an appointment.
Mr Kevin Patrick
Principal
20 August 2020