Chiltern Hills 3G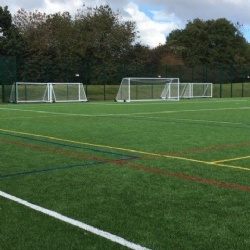 Investing in Local Grass Roots Sport - Chiltern Hills 3G All-weather Pitch
A public access all-weather sports pitch is a normal part of a modern community. Go anywhere in Europe, even the smallest, poorest town has a floodlit synthetic turf pitch where everyone can play outdoors all year round. Every week in Chiltern District, more than 200 teams play football and rugby, but our District is the only one in this region with no all-weather pitch to train or play on.
To fill the gap, Chiltern Hills Academy in Chesham is leading a well organised project to build Chiltern Hills 3G - a full-size public access all-weather pitch on the school campus. It will be used by schools in school hours and by clubs in the evenings, weekends and holidays.
We have just received confirmation from Sport England that they are fully behind our desire to build a 3G full-size artificial football pitch behind the sports hall. A planning officer visited us this week and I am sure that in the coming weeks we will hear that approval has been agreed. We will then launch a significant fundraising plan as, although the school is contributing £150k to this project, there is a funding shortfall.
Read more on the Chiltern Hills 3G page including funding appeal leaflet to download.