Sports Day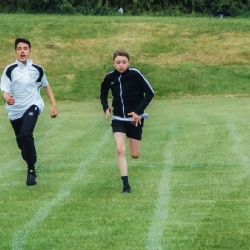 We are holding our annual Sports Day on Thursday 20 June on the Academy sports field. The track finals (which include 100m, 200m, 300m, 400m, 800m and the relay) will commence at 1.15pm and should finish by 3.10pm. Please note that only the finals are being held at this time as the heats will have already taken place. Please check with your son/daughter if they are competing in a track final before travelling to the academy. We will issue the list of competitors following the heats on Tuesday 11 June.
Students will be able to come to school wearing their PE kit on Heats Day as well as Sports Day. This must be Academy PE kit only. Hoodies and tracksuit tops are not permitted. If there are any problems with this please see Miss Taylor. If students do not wear their PE kit they should be wearing their school uniform as normal. If it is a hot day, please ensure your son/daughter brings a sun hat, sun cream and plenty of water to drink. If it has been wet, please ensure your son/daughter has a plastic bag to sit on in the afternoon.
You are most welcome to come and support the students during the track finals, however we ask must you to remain in the seating area by the finishing line for health and safety reasons. Please enter the Academy site through the lower gate entrance, where you will be asked to sign in. You will be required to wear a visitors badge whilst on site. Please note that the Academy site operates a no smoking policy and that we ask you to leave any dogs at home. Please also do not film or take photographs during the event. Programmes will be available and we ask that you make a donation.
There is a reply slip in the attachment below if you wish to attend. Please return to Miss Taylor, or email her at ataylor@chacademy.co.uk indicating the number of seats you require. If it is
raining on the day please contact the main office or look at the website before travelling to the academy in case of cancellation.