Sixth Form Results 2019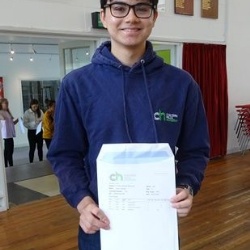 The Academy atrium was full of excited students, ready to celebrate their achievements after months of extremely hard work and to confirm university applications, apprenticeships and career pathways.
Principal, Kevin Patrick, said "We are delighted with the achievements of our students and there have been some exceptional results. Students and staff have worked incredibly hard over the past two years and we are really proud of our students' results. I would like to once again thank all of the staff for going the extra mile with the students, and the parents and carers for their continued support. Our Year 13 students now leave us for the next exciting chapter in their lives and we wish them well." Further to the A Level results there was a 100% pass rate in the BTEC courses (studied at Level 2 and Level 3) with many students awarded the top grade of Distinction Star.
Chiltern Hills Academy prides itself on its determination to admit all students into the Sixth Form who would benefit from continuing their studies. Many of these students aspire to gain entry to Higher Education in the future or to progress to employment. Amongst the students celebrating their results are:
| | |
| --- | --- |
| Zachary Brimicombe | Merit Business Studies, C Art and Design, C English Literature |
| Candice Bryant | B Art and Design, Distinction Performing Arts |
| Jordyn Claasen | C Art and Design, Distinction Business Studies, D English Literature |
| Zahra Haq | B Psychology, B Sociology, C History |
| Tannin Jeffrey | B English Literature, E Biology, B Sociology |
| Georgia-Rose Nolan | Distinction* Performing Arts, C Geography, C Psychology |
| Luke O'Brian | Distinction* Business Studies, C Psychology |
| Jodie Pedder | B Art and Design, C Geography, C Sport/PE Studies |
| Ali Rashid | B Accounting, Distinction Business Studies, C Mathematics |
| Aisha Rasool | E Accounting, Distinction Business Studies, B Geography |
| Nathan Rutland | D Geography, B Media, Distinction Performing Arts |
| Imran Verhulst | A Accounting, A Chemistry, A Mathematics, A Physics |
| Frank Wharton | B English Literature, B History, B Sociology |
| Tim Williams | Distinction Business Studies, C Geography, B Media Studies |
| Ryan Yearley | B History, D Mathematics, B Media Studies |
The Sixth Form at Chiltern Hills Academy continues to grow and there are wider opportunities for both traditional A Levels and vocational courses. There are more than twenty different courses offered in the Sixth Form. The enrolment for Y11 students who wish to join the Sixth Form at Chiltern Hills is 10.00am to 12.00pm on Thursday 22 August. Enrolment will take place in the Academy atrium. Alternatively applicants can contact the Director of Sixth Form, Miss L Harman by email: lharman@chacademy.co.uk
Mr Kevin Patrick (Principal)
15 August 2019