Partnerships and Community Links
Chiltern Hills Academy is at the heart of the community. Our students mostly walk to and from the school, 90% have families within a three mile radius of the school. Over the years we have developed a range of positive local community partnerships to benefit students' aspirations, their spiritual and their social development.
Parish of Great Chesham
Our Chaplain, Rev. Phil Nightingale, is Associate Minister at St Mary's Church, Parish of Great Chesham. The Parish Youth Minister also supports Solid Rock, the Academy CU.
Chesham Mosque
Chesham Mosque is situated on Bellingdon Road. Daily Quran classes for children are held there.
Beacon School, Accra
We hosted a group of students and teachers in recent years. There remains links as the principal here remain in communication with the principals at the Beacon School. Future curriculum links are being explored and maybe one day a visit for our students to Accra.
Pond Park Residents Association
A number of our students live in this area of Chesham. The principal is a member of the association and events and news are shared between the school and the association.
Stags
This rugby club has strong links with CHA and has teams for all ages including Juniors and Veterans.
Theatre Shed
(formerly Shed @ the Park) Many of our students are members of this inclusive theatre company, which now meets at the Beacon School, and we are delighted to have a strong link with their wonderful work.
Buckinghamshire Adult Learning
Adult Learning classes are held in premises alongside the Academy.
World Challenge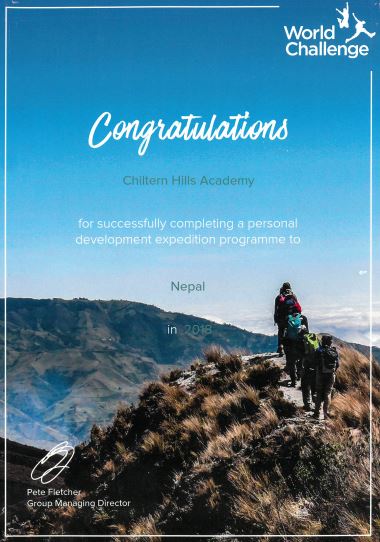 In 2018-19 a group of adventurous students and staff from CHA visited Nepal, they explored, hiked and undertook a school community project in a Nepalese village.
MIND
Our sixth form students have been trained to offer support to younger year groups, they have developed the 'Chill Zone' a place to talk and to listen for any student at break time or lunchtimes.
Duke of Edinburgh Award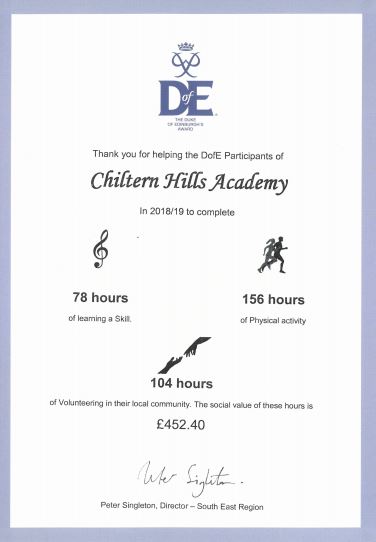 Each year students in Y9 – Y13 have the opportunity to embark on the D of E award scheme. They build up a repertoire of skills, they undertake community service and plan and take part in expeditions. Developing leadership, stamina resilience and growing as individuals as they achieve the award.
Rotary Club
The Rotary Club work with the school to provide assistance with business days and problem - solving events e.g. Technology Competition
Bucks New University, Oxford Brookes and University of Buckingham
Students have the opportunity to visit one or all of these universities. Masterclasses based at the universities are appreciated by students.
Watford Borough Council
They have been very supportive in the geographic field studies undertaken in the Watford, providing resources and student guidance over town planning and development.
Learning Enterprise Partnership (Saunderton)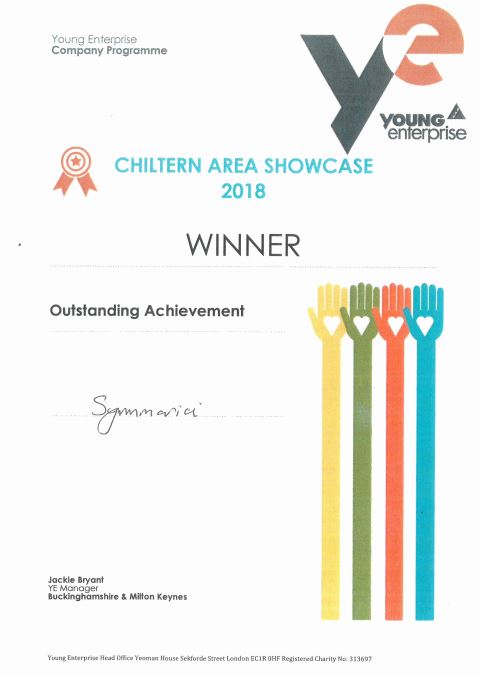 Working with the careers leader at the school a programme of careers opportunities are provided for students of all ages.
Chesham Photographic Society
Students from the school annually enter this group's competition and achieve good results from their creative photographic techniques.
Chesham Youth Centre
Some of our students attend the centre and often help to lead groups for younger students.
External Clubs/Groups that use the facilities at CHA
(click heading to see web-site for each organisation)
Umar Aslam 01494 416110 info@aheadtuition.co.uk
Master Whitley 07973153693 maxema@sky.com
Contact can be made through the website
Training in martial arts, self defence.
Training at Chiltern Hills is on Friday in the Sports Hall from 6.30 till 8pm. Ages from 7 years to 15 yrs
Also training at Brushwood Junior School on Mondays ( 7-8.30pm 10 yr old to adult )
St. Johns Methodist Church, Bellingdon Rd on Wednesdays ( 7-9pm 10 yr old to adult )
First lesson is free.
Lisa Welling bucksgirlsfootball@yahoo.com
Chesham United Ladies have a very active team providing fun and competitive football for girls from 5 and up. If you have a daughter that wants to come along on a Tuesday evening just email us!
WE ARE THE PLACE TO COME IF YOUR CHILD WANTS TO ENJOY PLAYING FOOTBALL.
We run teams from ages ranging from under 5s through to Adults.
We offer guidance and encouragement from fully qualified coaches to over 400 children every week.
07491959473
Classes are Monday and Thursday 7pm. Booking system in place. Limited numbers allowed due to Covid19.
Erin Thwaites erin_thwaites@yahoo.co.uk
01494 758079 / 07989433860
Chiltern Karate have 4 venues across Bucks - Amersham, Aylesbury, Chesham and Holmer Green. The Chesham club trains weekly on a Tuesday evening at 8pm at Chiltern Hills Academy and we encourage students to join from the age of 7-70+. There are no club joining fees and we allow people to pay as they train with no monthly payments. The beginner fee costs £20 for a junior under 16 and £25 for an adult which gives them 6 lessons each - effectively giving 6 lessons for the price of 5. After the introductory lessons training continues at £4 for a junior and £5 for an adult and we also offer a small family discount where possible.
If you would like to give it a go please do not hesitate to get in touch.
Ross Langworthy south@espfa.co.uk
ESPFA Buckinghamshire, partnered with Chesham United Football Club, provides a full time Football and Education study programme, for students aged 16-19. We are currently welcoming applications from Year 10 and Year 11 students, who may want to pursue a career in the sports industry, combining further education with a full time football training and games programme.
Richard Mapp 01494 415 003 teambucks@hamsterzorb.com
Children's Bubble Zorb Parties. Age 8 to 18. Our trained staff will do it all so you can sit back and enjoy!
01494 911133 mk@littlekickers.co.uk
18mths – 6.5years
We give your children a positive introduction to sport by teaching high quality football skills in a friendly, pressure-free environment.
There are four different classes tailored specifically to the needs of children between 18 months and seven years of age.
It's the perfect way to ignite an enthusiasm for sport that will stay with them for life
Georgie Ketteman 07939408059 maggiemonkdance@gmail.com
Maggie Monk School of Dancing is one of Chesham's longest running dance schools. Our Saturday morning classes at Chiltern Hills Academy include Baby Ballet age 2-4 years; Baby Street Dance age 3-5 years; Pre-Prep Ballet age 4+; Prep Ballet age 5+ and Elite Training for committed dance students aged 7-19.
Free trials available. For more information please check out our website or contact us to book a free trial class.
Adam Robertson 07510639876 Adam-Robertson1@live.co.uk
6:30pm to 8pm at Chiltern Hill Academy Sports Hall. Ages: 6 +
This is a Self Defence Martial Art
Who is Pro Mai for?
In a word – anyone! There is no minimum fitness level to start training. At Bucks Pro Mai, our aim is to help you develop at your own pace. We will assist you in setting and achieving realistic but challenging goals for yourself. We have students of all ages and approximately 40% of our students are female. Great for self confidence and fitness.
Adam Robertson
Chief Instructor of Chesham School
Kylie Tuffney 0785295848 office@tuffney.com
We are a fun, energetic dance school based in Chesham, Amersham and Holmer Green. We offer dance classes in Ballet, Tap, Contemporary, Street Dance and Acro to children aged from 2.5years. We offer a free trial lesson and classes start from £4.50